Social Media 101: LinkedIn Replicating Snapchat?
Jazz Up Boring Convention Photos with Snapchat-Style Filters from LinkedIn
LinkedIn has long been the bastion of boring, in a way — with professional networking being the main order of business.  Will the new geofilters add a spicy layer to the social media giant?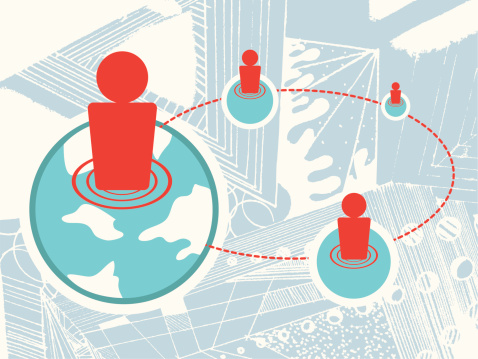 There just may be a better reason to download the LinkedIn app:  now you can find Snapchat-style geofilters that can be added to photos and videos within the app.  While the LinkedIn app is thought by many to be more of a necessary evil than a true destination, the professional networking social giant has finally gotten creative and added a functionality that is likely to gain wide adoption with convention and conference attendees.  While the rollout was limited to the Grace Hopper Celebration conference, additional events will be included in the future.  Is it possible that this little tweak to the concept of filters could replace the need for badges in the future?  Only time will tell.
Growth of Geofilters
Snapchat has been leveraging geofilters as a growth strategy for quite some time, with relatively-inexpensive advertising fueling the desire for brands to see themselves captured across the internet.  Families create filters for birthdays and other local events, sure — but the real growth of geofilters has been by brands hungry for new and innovative ways to spread their message.  By drawing a virtual fence around the geographic area where you want to promote your goods or services, Snapchat filter creators are able to overlay an image or video that can be overlaid on any snap.  This is particularly exciting for anyone marketing to millennials, as they make-up the vast majority of the 150 million daily Snapchat users.  The possibilities for targeting this juicy audience segment is difficult for marketers to ignore, so they're flocking to Snapchat geofilters.  The creative applications are essentially limitless, and the costs are exceptionally low.  Geofilters for popular locations can be under $100, often garnering thousands of high-quality impressions from users.
Bye-Bye Boring Photos and Videos
The updated filters are meant to form a professional frame for an individual's interactions at a specific event.  While the idea of people wearing floppy bunny ears, a halo of flowers or crazy-rimmed glasses during conference photos may seem alarming, fortunately, LinkedIn geofilters seem a bit more sedate — at least for now.  LinkedIn business leaders are hoping that this engaging new feature will help LinkedIn get its mojo back, and regain users who have fled to other platforms for less advertising-laden browsing.  Users are finding that these updated video filters provide a way to identify users with a particular group as well as add some needed interest and life to images that can admittedly be a bit bland.  Unfortunately, LinkedIn currently appears to be keeping tight control of which events are allowed to launch geofilters, and the functionality overall has not yet been turned over to users for full participation.  Additionally, speakers at the event are able to manually enable a feature that provides a speaker tag in your filter, a nicety that will be appreciated by professional users.
LinkedIn Needs a Win
The professional networking site has been plagued with challenges over the last several years, as it has widely been called a spam engine while analysts debate the expected deceleration of the platform overall.  In the midst of this mostly-negative outlook throughout the business world, LinkedIn has attempted to introduce several paid models that could lead to revenue with the acquisition of Lynda.com training platform and the Sales Navigator model.  However, users continue to resist heavy adoption as a very small percentage of super-users dominate the platform while the majority of people use it only as a last resort or living resume as they're planning their next organizational shift.  With the scattered focus of the last few years, it's possible that LinkedIn is finally recognizing that its niche exists in creating a positive space for networking between professionals.
While the geofilters are not yet available to the general public, there is some thought that they will be in the "coming soon" category — probably once LinkedIn's leaders determine the best way to monetize the new functionality.  Want to learn more about this and other upcoming technology options that will impact your business?
Client Success
"I have an offsite assistant, and all of my files (drawer-upon-drawer of them) are now  available. The ability to load documents from the offsite location, and have them [available] for me exactly when I need them is the great benefit of the SaveYourData software,"
The Michaud Group
readmore