Set Up Android Device Manager to Lock and Wipe Your Phone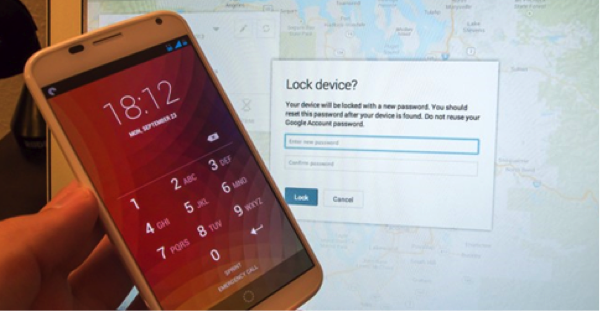 CAUTION – these instructions teach how to erase your phone.  Do not play with these unless you intend to erase your phone's data and have adequate backup in place!!
With Google, remotely managing and wiping your device is easy and effective. Android has caught up with iPhone by providing a Device Manager that will allow a user to locate and remotely swipe your phones and tablets. Recently, the service has been refined. Google updated the Android Device Manager [ADM] to include the ability to apply and change lock screen PINs and passwords, adding to the current remote wiping option.
Enabled ADM is simple; you can head to google.com/android/devicemanager on your computer and go through your list of devices that are connected to your Google account. Once there, you can send a notification to the device you want to enable remote password application and wiping on, and you'll be that much closer to a more secure phone.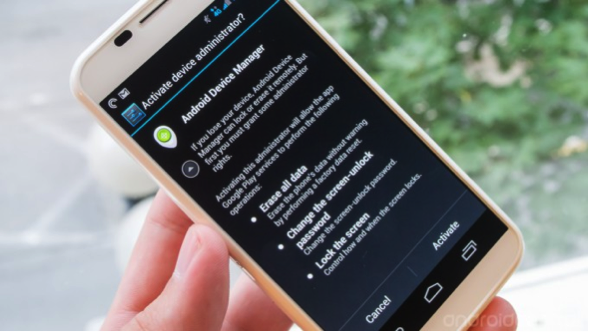 Next, tap on the notification you receive on your device [or navigate to the Google Settings app on your phone, choose "Android Device Manager"]. Either way you can now select the box for "Allow remote lock and factory reset." You'll be given a permission screen [shown here] that lets you know Android Device Manager will now be a "Device Administrator" on your phone — thus giving you permission to manage your device remotely. This is vital in the event of a loss or stolen device.
Once you've checked the boxes, navigate back to the Android Device Manager interface and refresh the page. Here you will now see two additional options light up under the status of that device. Next to "Ring" you'll now have the new option to "Lock" as well as the original option of "Erase." Clicking on Lock will bring up a dialogue box that lets you enable a PIN or password, even if you had no security on the phone prior to enabling.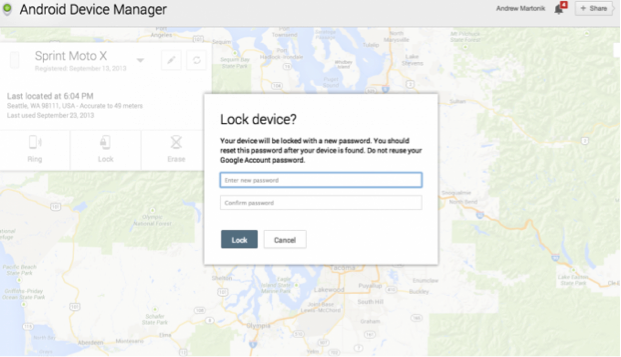 Enter either a [preferably long] numerical PIN or an alphanumeric password — which has highest security — in the box, confirm it, and then click the "Lock" button. Within seconds the screen on the selected phone will turn off and once you turn it back on either a PIN or password box will pop up for you to authenticate to unlock. In order to remove the lock screen security from your phone, go into the phone's settings and turn off security [again confirming the PIN or password] rather than just the first time you unlock.
If you have lost or suspect your phone was stolen, the first step is to immediately lock it with a strong password from the web interface. Once you've assessed the situation and conclude it has been stolen, and then consider a remote wipe. Remotely wiping the device happens just as quickly as the screen lock, and erases not only the phone but also any external SDcard storage it may have. Whenever a wipe occurs you will also receive an email notification indicating where and when the device was wiped.
In either case, the lock or wipe will occur almost instantly, and if the device is turned off or has no internet connection, it will do the wipe immediately upon reconnection. This is a great feature and service from Google that will hopefully encourage more people to be mindful of their phone security. It is also painless to set up and easy to manage if the worst happens. It's truly a security no brainer.
Client Success
"I have an offsite assistant, and all of my files (drawer-upon-drawer of them) are now  available. The ability to load documents from the offsite location, and have them [available] for me exactly when I need them is the great benefit of the SaveYourData software,"
The Michaud Group
readmore