Android Tech Tip: Don't Just Talk on Your Android – Talk To Your Phone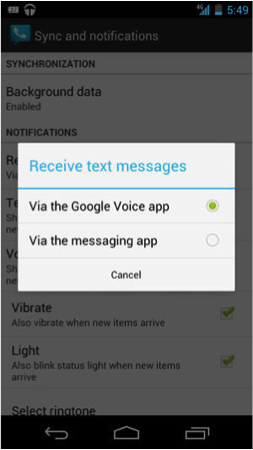 With correct setup, Google Voice can actually replace regular texting on your phone! See the dialog box that allows Voice to capture incoming text messages to your left.
One of the best things about Android is its tight integration with the Google Apps suite. The Gmail client, for example, is way ahead of its iOS counterpart with its ability to tag, filter, switch accounts, and do almost everything offered on the desktop version. Google Voice may be the most versatile of all Google Apps.
Google Voice gives you a new phone number (don't worry – you can also carry over your existing mobile number) and it is tied to your Google account. You can do all sorts of nifty things with this number. Such features include setting different voicemail greetings for different callers, forwarding the number to a separate line and having voicemails automatically transcribed to text so you can read them like regular messages (super convenient in meetings!). If you're moving to a new city or have poor cell reception in your workplace or home, consider signing up for a Google Voice number with a local area code – that way you can hang on to your original number, but also get the benefits of local calling rates and the ability to retrieve messages via text message.
A huge bonus is that with Google Voice, you can set it up to give you free texts, even if your current phone plan doesn't include texting. Your Google Voice number can both send and receive texts for free, and your Android phone will give you the option to use that Voice number as the default. Alternatively, you can also have it to forward texts as emails (you'll be able to respond to incoming texts by email, as well). As long as you keep the data portion of your phone plan, you can pretty safely drop the messaging part. Very intelligent integration here!
Client Success
"I have an offsite assistant, and all of my files (drawer-upon-drawer of them) are now  available. The ability to load documents from the offsite location, and have them [available] for me exactly when I need them is the great benefit of the SaveYourData software,"
The Michaud Group
readmore